If you've been out of the game for a while or are just getting into it, my Foundation courses are a great place to start.
Real World Seduction 2.0 eBook...
Inside You'll...
Develop the skills and confidence to approach the women you desire.
Learn to generate the kind of attraction in women that makes women chase you and causes them to think about sex with you.
Discover how to connect, relate, and vibe with a woman in a way that makes her comfortable enough to sleep with you.
Master the art of turning innocent conversations sexual. (Remember: You'll never sleep with the women you want, if you don't know how to correctly put the moves on her.)
To find out more about Real World Seduction 2.0, click here.
Real World Seduction 2.0 audio course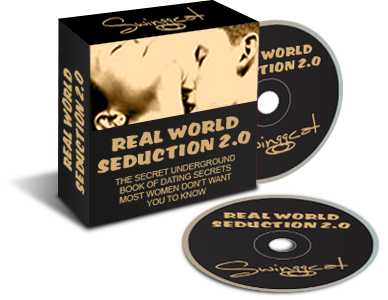 Some of us learn better while listening than reading. That's why I created the audio version of Real World Seduction 2.0.
If you're an audio learner, I highly suggest getting your hands on the Real World Seduction 2.0 audio course.
To check out the Real World Seduction 2.0 audio course, click here.
Foundations For Generating Attraction
Inside You'll Learn...
Advanced techniques for approaching any type of woman in any environment, and in any situation.
Advanced Frame Control - this gives you even more power and control over your interactions with women.
Advanced Push-Pull - you'll discover Push-Pull techniques that aren't covered in the Real Wolr Seduction eBook.
Darkside Rapport - hands down one of the most deadly and effective techniques for seducing women.
Lots of exercises that burn all of the concepts and techniques in Foundations into your neurology, so become a part of who you are.
And much much more
To check out Foundations For Generating Attraction, click here.
Each of my advance courses focuses on a specific area of seduction.
If there's a specific area of seduction you want to work on or sticking point you want to get past, check out these courses.
They will turn an attraction train wreck into a good seducer and tranform a good seducer into a seduction powerhouse.
Natural Vibing
Inside you'll learn...
How To develop your natural ability to approach and vibe with women in a way that magnetically pulls them in and makes them think, This guy's cool
My Complete System For Naturally Initiating The Vibe With A Female Stranger...
A Method Most Men Will Never Learn That Puts You In Control Of The Vibe & Gives You The Power To Turn It Sexual At Any Moment...
How To Builds The Kind Of Trust & Authority That Makes Women Follow Your Lead & Comply With Each Of Your Requests...
An Ancient Yet Universal Storytelling Structure That Doubles Your Charisma & Drives Women To See You As Their Romantic Hero...
Advanced Techniques For Turning Sexual Fantasies Into Sexual Intimacy
To check out Natural Vibing, click here.
Sexual Connections
Sexual Connections combines recent findings in science with field tested techniques for sexually arousing women from the moment you meet them.
Inside you'll discover...
How to bypass a woman's critical factor.
How to tap into primitive parts of her brain that generate raw sexual arousal.
How to quickly create the right neurological structures that compel her to act on that arousal.
To learn more more about Sexual Connections, click here.
Masculine Polarity

Inside you learn...
How to gain complete freadom from your ego.
Create a gravitational field that pulls women into your orbit
Recognize attraction signals most men will never see that show exactly how to get the girl.
To check out Masculine Polarity, click here.
©2003-2017 Superior Living Inc, All Rights Reserved. Real World Seduction" and "Swinggcat" are trademarks of Superior Living. It is illegal to use or "borrow" any of our sales copy or artwork. Any individual who fail to heed this warning, will be prosecuted to the full extend of the law.